PvP Singles Tournament on May 24th - All Levels Invited!
Sponsored by Warlords of Exodus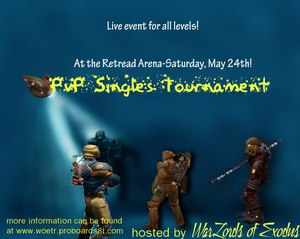 Greetings Tabula Community!
In correlation with DEV Critters, Warlords of Exodus is hosting a live event for all levels to participate! The event is to take place at the Geodesic sphere at Retread City in the Marshes. We will be having a PvP Singles event for all levels. We will be matching opponents by their level and profession to avoid our players from fighting classes in their own skill tree. This system will provide a diverse matching schedule, and also allow all levels to fight their own caliber as long as possible. We want to encourage PvP in a productive manor to make our patrons return for our next event!
Since all the levels are involved in the same category, the level 50s will eventually prevail, but our clan will be observing the heavy hitters from each class with specially crafted purple items, and other forms of GM loot!. So even if you're not the top dog, there's something to be found here for everyone!
There is not a formal sign up at the moment, just plan to show up and we'll be there. If you have any questions or concerns, feel free to post on the Official PvP Singles Tournament Thread.